Download Our Free Ebook And Discover 25 Ways To Turn Your Website Into An Inbound Marketing Machine
We all know how important a website is to a business's online inbound marketing, but what does it really take to design a great website that drives visitors, leads and revenue?
This free, 50 page guide is the ultimate resource in terms of creating a killer website.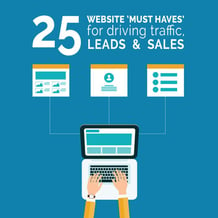 You will learn:
How to expand your online presence with search engine optimization (SEO), including tips on building inbound links, meta tags, and more
Important design and usability factors you need to know
Tips for creating content that attracts and keeps visitors on your website
Best practices for converting traffic into leads, including
Calls-to-Action, Landing Pages, and Forms
Grab your free copy on the right, and start optimizing your website with these must-haves!